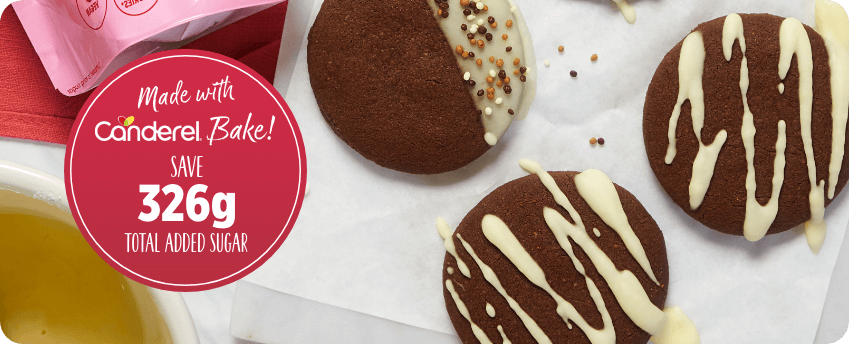 Method
In a saucepan melt the Canderel® Bake! Cooking Chocolate 70% over low heat. Remove from the heat and allow to cool.
To make the shortbread, beat together the Canderel® Bake! Caster Sugar Alternative, butter and zest until pale and fluffy. Add the flour, ground almonds, salt and the chocolate and mix together briefly with your hands – do not overwork the dough. Wrap and chill in fridge for 15 mins
Preheat the oven to 160°C (fan). Line 2 baking sheets
Roll out the shortbread dough on a lightly floured worktop to about 1cm thick. Cut out into rounds and place on the lined baking sheet. Re-roll the dough trimmings and continue to cut out rounds until the dough is used up. Return to the fridge to firm up for 20 minutes.
Bake for 15–18 minutes until golden brown. Keep an eye on the shortbread during baking to ensure that the edges do not catch.
Remove from the oven.  Allow to cool slightly then transfer to a cooling rack
Once cooled in a small bowl mix together the Canderel® Bake! Icing Sugar Alternative and orange juice until you have a smooth but thin paste. Drizzle over the top of the shortbreads allow to set before eating.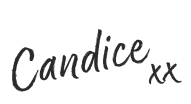 Ingredients
85g Canderel® Bake! Caster Sugar Alternative
150g Canderel® Bake! Cooking Chocolate 70%, chopped
Zest 1 orange
170g softened unsalted butter
230g plain flour, plus extra for dusting
25g ground almonds
pinch of salt
For Icing
150g -200g Canderel® Bake! Icing Sugar Alternative
Juice of 1 orange