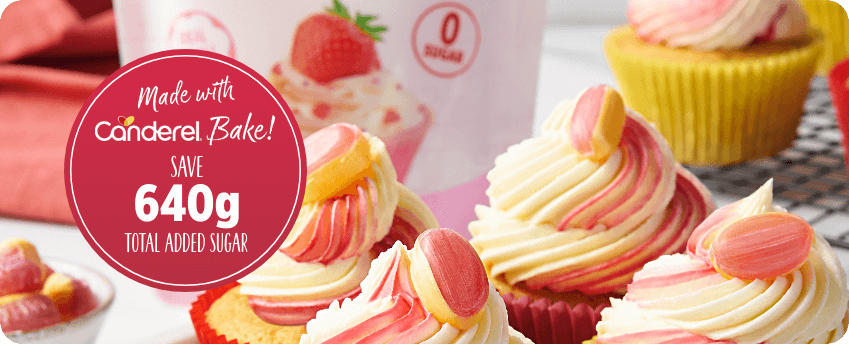 Method
Preheat oven to 160°C fan (180°C/350°F/Gas Mark 4) and place cupcake cases into 18 muffin tin holes – you will probably need 2 muffin tins.
Put the flour, 220g of the Canderel® Bake! Caster Sugar Alternative, butter, eggs, baking powder, zest and custard in a large bowl and, using an electric mixer, mix until combined and fluffy. Fill each cupcake case two thirds full, then bake for 18–22 minutes until golden and risen. Remove from the oven and place on a wire rack to cool.
Once cooled, dig out the centre of each cupcake with a teaspoon.
Chop the rhubarb into 2 inch pieces and place in a saucepan with orange juice and cardamom pods. Place over a medium heat until soft and broken down. Remove from heat and allow to cool
Place the butter into freestanding mixer and whip until soft and pale. Add in the Canderel® Bake! Icing Sugar Alternative in 3 stages whipping well in between. Add the custard and vanilla and whip until have a smooth soft but pipeable buttercream.
Paint a stripe of pink colouring down the inside of a piping bag fitted with a star nozzle then fill the piping bag. Snip the end off.
Remove the cardamom pods and spoon a little of the rhubarb mix into the holes in the cupcakes and then top with a pink swirl of custard buttercream. Repeat and top each cupcake with a rhubarb and custard boiled sweet.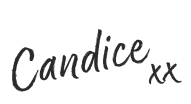 Ingredients
220g self-raising flour 
200g Canderel® Bake! Caster Sugar Alternative
220g unsalted butter, softened
4 eggs
1 tsp baking powder
zest 1 orange
2 tbsp custard
400g rhubarb
Juice 1 orange
3 cardamom pods, squashed
Buttercream
200g unsalted butter, softened
500g Canderel® Bake! Icing Sugar Alternative
3 tbsp custard
1 tsp vanilla bean paste
Pink gel colouring
Rhubarb and custard sweets