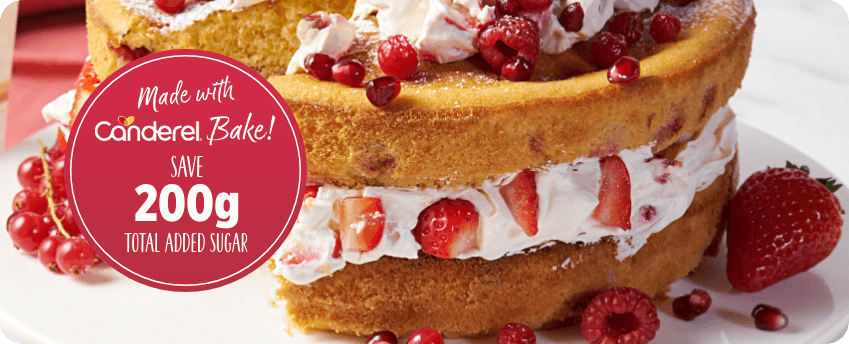 Method
Preheat the oven to 160°C (fan). Grease 2 x 18-20cm round loose bottomed sandwich tins, line the bottom and grease the edges.
Sift the flour into a large bowl and add the butter, Canderel® Bake! Caster Sugar Alternative, baking powder, eggs, lemon zest and juice. Mix together until smooth fluffy and combined. If using an electric mixer, mix on a medium speed but do not over mix. Fold through 3/4 of the raspberries.
Divide the mixture between the tins.
Place the 2 tins in the oven and bake for about 20-24 minutes until the sponges are risen and golden, and are slightly coming away from the edges (try not to open the oven before the 20 minutes is up). Remove the tins from the oven and turn out the sponges on to a wire rack. Leave to cool.
Whip the double cream thick enough to hold its shape – do not over whip.
Reserve 1/4 of the strawberries for the decoration. Remove hulls from the rest of the strawberries, and roughly chop. Fold these through the cream
Spread a thick layer of the strawberry cream on to one of the sponges and top with 2nd sponge. Heap the remaining cream into the middle of the top sponge and then place the remaining raspberries and strawberries and sprinkle over the pomegranate seeds and drape oner the redcurrants.
Finish by dusting with Canderel® Bake! Icing Sugar Alternative.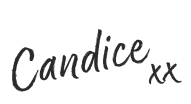 Ingredients
220g self-raising flour
220g unsalted butter, softened
200g Canderel® Bake! Caster Sugar Alternative
1 1/2 tsp baking powder
4 eggs
grated zest of 1 lemons
juice of 1 lemon
150g fresh raspberries
400ml double cream
500g fresh strawberries
1 pomegranate- seeds removed
Redcurrants
Canderel® Bake! Icing Sugar Alternative, to finish