Canderel® Stevia Granules
Low calorie granulated sweetener, derived from the stevia plant.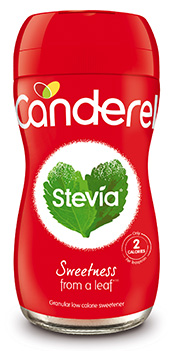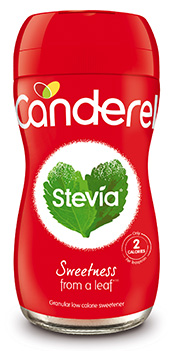 Naturally Sweetened
Canderel® Stevia Granules is made with extract of the Stevia plant to produce the delicious sweet taste of sugar without all the calories.
Low Calorie
Canderel Granules contain just 2 calories per teaspoon, compared to a teaspoon of sugar which clocks up 16 calories.
Versatile
Use Canderel® Stevia Granules to sweeten your dishes in any number of ways. Simply sprinkle some on your breakfast cereal or even over fruit. Or you can use it to replace sugar in your favourite recipes as well as in dressings and dips. All in all, it provides the same level of sweetness as sugar with the delicious satisfying taste you love, but with fewer calories.
Only available in Republic of Ireland from
Nutritional Information
Suitable for diabetics as part of a balanced diet and suitable for vegetarians