Canderel® Stevia Tablets
Sweetness on the go, derived from nature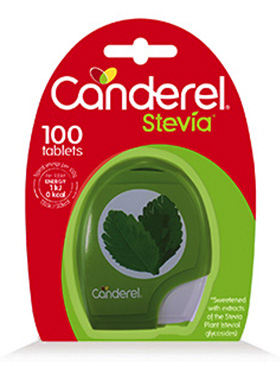 Naturally Sweetened
Canderel® Stevia Tablets are specially formulated with extracts of the Stevia plant. So you can add the delicious sweetness of sugar to your hot drinks without all the calories.
Low Calorie
Each Canderel® Stevia Tablet has the same sweetness as a teaspoon of sugar, but contains fewer calories. Plus our handy little dispenser is just the thing for adding a delicious sweet taste without the calories whether you're at home, at work or on the move.
Versatile
Our handy little dispenser fits snugly into your handbag, so it's just the thing when you're on the move.
Available in Republic of Ireland from

Available in United Kingdom from

Nutritional Information
Suitable for diabetics as part of a balanced diet and suitable for vegetarians