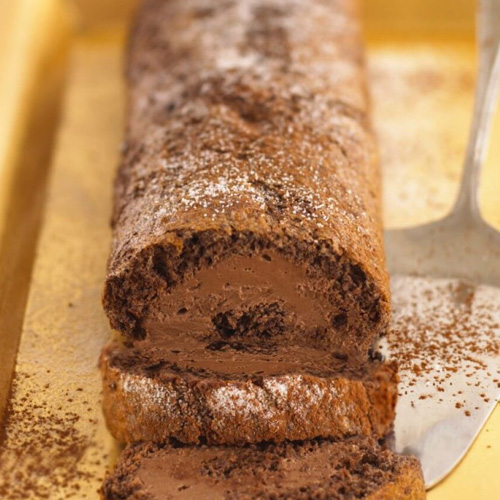 Method
1. Grease a 32.5x23cm (13x9in) Swiss roll tin and line with a sheet of non-stick parchment paper. Sift the flour and cocoa onto a plate.
2. Put the eggs and Canderel® Sugarly into a large bowl and place over a pan of simmering water, with an electric hand mixer, whisk for 5-7 minutes until the mixture is thick and almost double in volume. Remove from the heat and whisk a further minute.
3. Sift the flour again over the surface of the mixture and gently fold in with a metal spoon. Turn into the tin, level then bake for 7-8 minutes until just golden.
4. Place a doubled over tea towel on the work surface then place a clean sheet of non-stick baking parchment on top. Turn out the cake leaving the lining paper on and cover with a damp tea towel. Leave until cold about 1 hour
5. Uncover the sponge, peel off the lining paper then trim off the edges with a sharp knife. Put the quark, creme fraiche, vanilla extract, cocoa powder and Canderel® Sugarly into a bowl and beat until smooth, spread evenly over the roulade. Using the paper the cake is sitting on, lift the long edge and roll up. Transfer to a flat board or tray and refrigerate 3-4 hours until well chilled.Before serving dust with powder and Canderel® Sugarly.
180 kcals per serving

Ingredients
50 g plain flour
25 g cocoa powder
3 large eggs
50g Canderel® Sugarly
For the Filling
250 g tub quark
200 g reduced fat creme fraiche
1 tsp vanilla extract
40 g cocoa powder
75g Canderel® Sugarly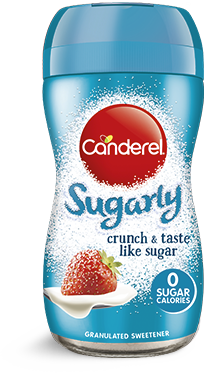 Canderel® Sugarly Nutritionals
Suitable for diabetics as part of a balanced diet and suitable for vegetarians
1/2 Teaspoon = 2g
(Jar contains = 137 servings)
Per Serving
(1/2 teaspoon)
Per 100g
Energy
0kJ
(0 cal)
4kJ
(1 cal)
Fat
0g
0g
of which saturates
0g
0g
Carbohydrate
2g
99g
of which sugars
0g
0g
Protein
0g
0g
Salt
0g
0g