Canderel® Sweetely Tablets
Instant sucralose sweetness on the go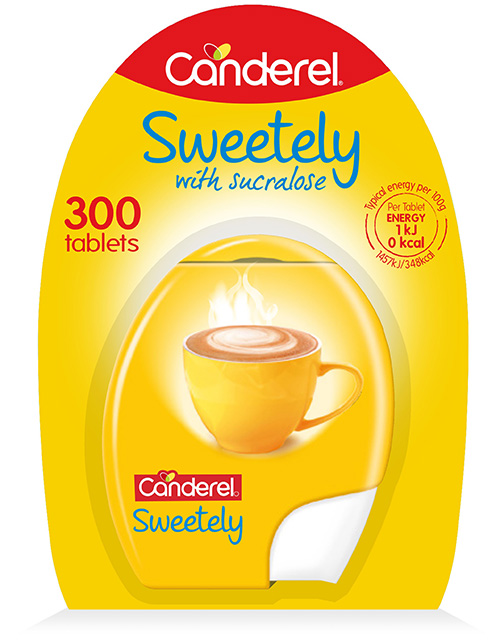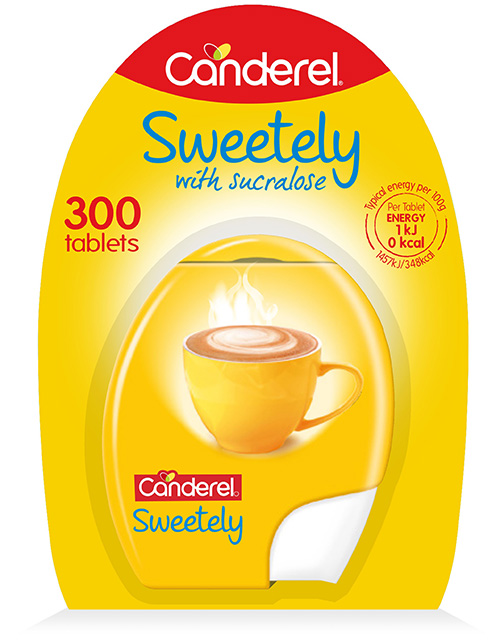 Practical
Give your hot drinks a sweet hint with Canderel® Sweetely tablets. Made with sucralose, each tablet provides the same sweetness as a teaspoon of sugar. Canderel® Sweetely tablets dissolve easily in your tea and coffee, and are handy for popping in your bag for on-the-go sweetness.
Delicious
Canderel® Sweetely tablets allow you to add sweetness to your hot drinks but are low in calories, so are great for helping maintain a healthy balanced diet. You can still enjoy the same delicious sweet taste as sugar, but without worrying about the calories!
Versatile
Canderel® Sweetely tablets mean you can add a sweetness top up to your hot drinks anytime, anywhere. Whether you keep yours in your handbag, your kitchen or your office, our tablets are the perfect go-to at all times.
Availability
Our 300 tablet pack is available at 
Nutritional Information
Suitable for diabetics as part of a balanced diet and suitable for vegetarians
1 Tablet = 0.085g
Per Tablet
Per 100g
Energy
1kJ
(0 kcal)
1457kJ
(348 kcal)
Fat
0g
0g
of which saturates
0g
0g
Carbohydrate
0g
87g
of which sugars
0g
84g
Protein
0g
0g
Salt
0g
0.09g
Ingredients: Lactose (milk), sweetener: sucralose (5.84%), stabilisers: microcrystalline cellulose, cross-linked sodium carboxy methyl cellulose, flavourings.
Suitable for Lacto vegetarian diet.