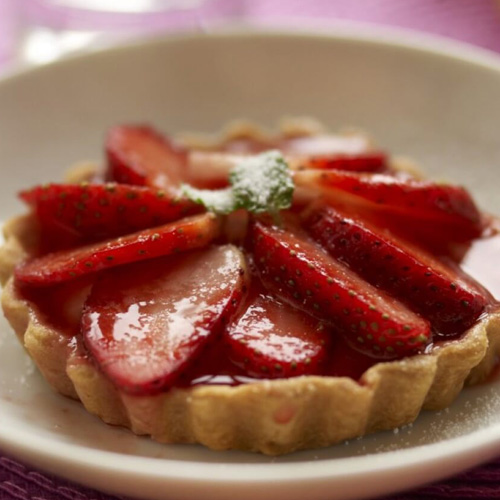 Method
1. Preheat the oven to 200C (400F) Gas mark 6. Thinly roll out the pastry on a lightly floured surface and cut out 4 rounds to fit the tart tins.
2. Press the pastry rounds into 4 x mini tart tins, about 6cm round then add a square of parchment paper to each one and fill with baking beans.
3. Put in the oven and bake for 10 minutes, then remove the beans and paper and bake for a further couple of minutes until the pastry is lightly golden. Remove and leave to cool.
4. While they are cooking make the Creme Anglaise; Whisk the Canderel Sugarly and egg yolks together until creamy then heat the milk and cream gently, not allowing it to boil.
5. When warm pour into the egg mixture and whisk then add it back to the pan and simmer on a low heat, stirring constantly until it begins to thicken slightly. Then pour through a sieve and leave to cool for a few minutes. Once cooled, spoon the mixture into the tart cases. (if you have any left over, use poured over fruit the next day).
6. Leave to cool and set completely, then top with the sliced strawberries, leaving about 4 to make syrup.
7. To make the syrup: add the remaining strawberries to a small pan with a sprinkling of water and the Canderel Sugarly. Heat gently until the strawberries are soft to pass through a sieve. Spoon this syrup evenly over each tart and leave to cool. Decorate with a mint leaf and a dusting of Canderel Sugarly if you wish.
285 Kcals per serving
Ingredients
200 g light short crust pastry
200 g strawberries (hulled and sliced)
1/2 tsp Canderel Sugarly
1 handful of mint leaves for decoration
1/2 tsp Canderel Sugarly for dusting
For the Creme Anglais
2 egg yolks
50 g Canderel Sugarly
1/2 tsp vanilla extract
150 ml skimmed milk
100 ml reduced fat double cream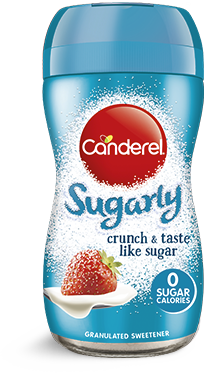 Canderel® Sugarly Nutritionals
Suitable for diabetics as part of a balanced diet and suitable for vegetarians
1/2 Teaspoon = 2g
(Jar contains = 137 servings)
Per Serving
(1/2 teaspoon)
Per 100g
Energy
0kJ
(0 cal)
4kJ
(1 cal)
Fat
0g
0g
of which saturates
0g
0g
Carbohydrate
2g
99g
of which sugars
0g
0g
Protein
0g
0g
Salt
0g
0g