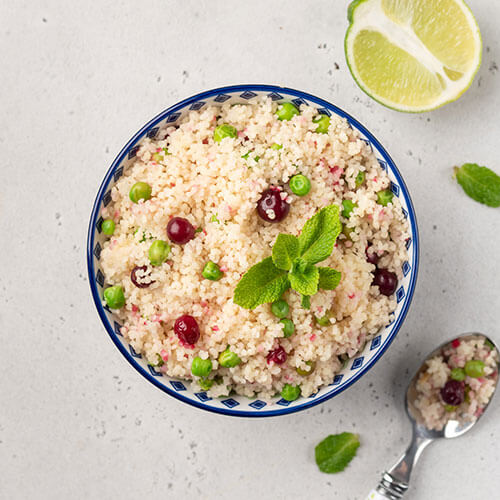 Method
1. Tip the couscous into a bowl then pour over about 300ml of boiling water or just enough to cover and leave to sit for 10 minutes, then fluff up with a fork.
2. Add the apricots, cranberries and nuts and stir to combine.
3. Mix the dressing ingredients together and season to taste with sea salt and freshly ground black pepper. Pour over the couscous and stir then stir through the parsley. Taste and adjust as necessary.
234 kcal per serving

Ingredients
250 g couscous
25 g dried apricots (chopped)
25 g cried cranberries or use dried ready to eat dates
25 g whole almonds (in skin, roughly chopped) or use hazelnuts
1 handful of fresh flat leaf parsley (roughly chopped) or use coriander
For The Dressing
1 tbsp extra virgin olive oil
2 tsp white wine vinegar
1 tsp Canderel Granules
1 Pinch of ground all spice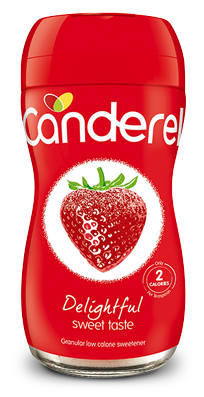 Canderel® Granules
Nutritionals
Suitable for diabetics as part of a balanced diet and suitable for vegetarians
1 Teaspoon = 0.5g (Jar contains 150 teaspoons)
Per teaspoon (0.5g)
Per 100g
Energy
8kJ
(2cal)
1597kJ
(382kcal)
Fat
0g
0g
of which saturates
0g
0g
Carbohydrate
0.5g
94g
of which sugars
0g
7.3g
Protein
0g
1.0g
Salt
0g
0g