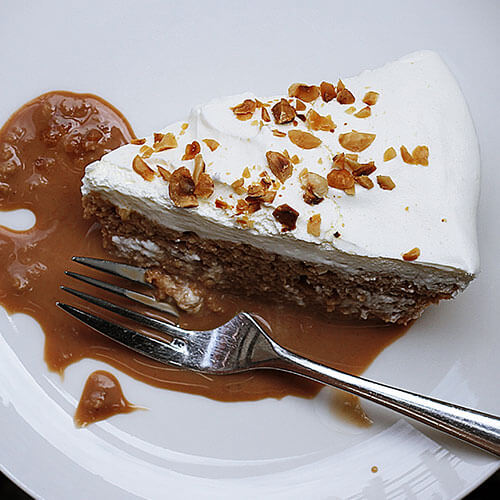 Method
1. Preheat the oven to 180ºC/Gas 4.
2. Add the flour, baking powder, Canderel® Caster Sugar & Sweetener Blend, low fat spread, eggs and coffee and beat well with an electric hand whisk or use the food mixer.
3. When all combined and the mixture falls of the beaters, stir in the pecan nuts and pour into the prepared tin.
4. Bake in the oven for 35-45 mins or until golden and it springs back when touched with fingertips. Leave to cool for 10 minutes in tin then release and leave to cool completely on a wire rack.
5. Meanwhile, prepare the topping; beat the low fat spread until soft and creamy then add the Canderel® Bake! Icing Sugar Alternative and beat until combined. Now add the coffee and mix until it is smooth and creamy. If it needs more Canderel® Bake! Icing Sugar Alternative add some and stir through until it reaches the required consistency.
6. When cake is cool spread the mixture generously on top to cover, then top with pecan nuts.
324 calories per serving
Ingredients
225g/8oz self-raising flour, sifted
1 tsp baking powder, sifted
160g Canderel® Caster Sugar & Sweetener Blend
175g/6oz low fat spread
3 eggs
2 tbsp diluted strong coffee
50g/2oz pecan nuts, roughly chopped
For the icing
100g/4oz low fat spread
160g Canderel® Bake! Icing Sugar Alternative
2-3 tbsp strong diluted coffee
About 14 pecan halves
You will also need a lightly greased and lined round loosebottom 18cm/7″ cake tin