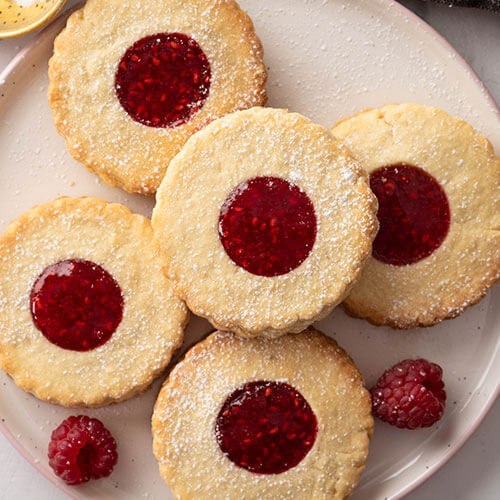 Method
You will need 2 lightly greased baking sheets
1. Preheat the oven to gas mark 4/180C (160C in a fan oven). Add the low-fat spread to a food mixer then add the Canderel® Stevia and beat until pale and creamy then beat in the vanilla extract.
2. Add the egg yolk and buttermilk and a tbsp of flour then mix again until it is combined. Add the remaining flour and beat on slow until it comes together. Turn out onto a floured board and gather together to form a dough. Wrap in cling film and put in the fridge for 20 minutes to chill and firm.
3. Pull away pieces of dough about the size of a walnut and roll into balls then sit on the baking sheet and flatten with the heel of your hand.
4. Make a thumb indentation in each one and add a small amount of jam into this then put in the oven and bake for about 12-15 minutes or until golden. Remove and place on a wire rack and leave to cool.
84 Kcals per serving
Ingredients
225g low fat spread
20g Canderel® Stevia Granules
1 tsp vanilla extract
1 egg yolk
2 tbsp buttermilk or milk
300g plain flour
Sugar-free strawberry or raspberry jam to top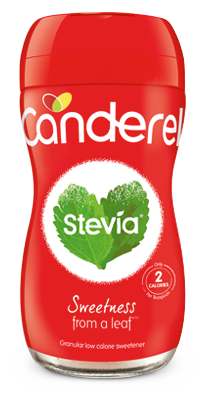 Canderel® Stevia Nutritionals
Suitable for diabetics as part of a balanced diet and suitable for vegetarians
1 Teaspoon = 0.5g
(Jar contains 150 teaspoons)
Per teaspoon (0.5g)
Per 100g
Energy
8kJ
(2 cal)
1582kJ
(378 kcal)
Fat
0g
0g
of which saturates
0g
0g
Carbohydrate
0.5g
94g
of which sugars
0g
7.3g
Protein
0g
0g
Salt
0g
0g