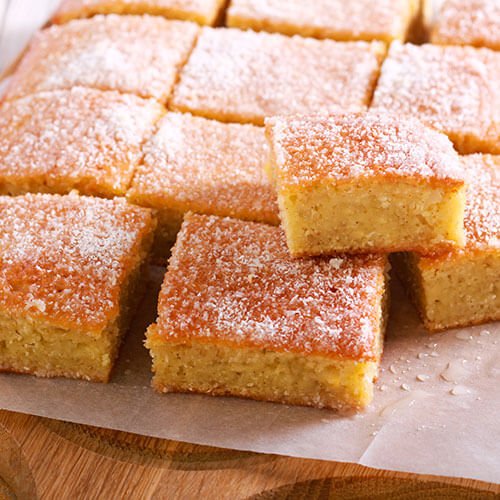 Method
You will need a 45cm/18inch square tin, greased and lined
1. Preheat the oven to gas mark 4/180C (160C in a fan oven). Add the low-fat spread, Canderel® Sugarly, flour and baking powder to a food mixer and combine.
2. Add the coconut, lime zest, eggs and milk and mix well for a couple of minutes until well combined. Pour mixture into the tin and put in the oven to bake for about 35-40 minutes or until the cake is springy to the touch.
3. Remove and put to one side, then mix the lime juice with the Canderel® Sugarly, pierce the top of the cake and pour over. Leave to cool for 5-10 minutes in the tin 
4. Turn out onto a wire rack, peel away the paper and leave to cool. Slice into mini squares to serve. Decorate with lime zest if you wish.
120 Kcals per serving
Ingredients
175g low-fat spread
87g Canderel® Sugarly
250g self-raising flour
1 tsp baking powder
1 tbsp desiccated coconut
Zest of 2 limes
3 eggs
100ml milk
For the topping
Juice of 2 limes
4 tsp Canderel® Sugarly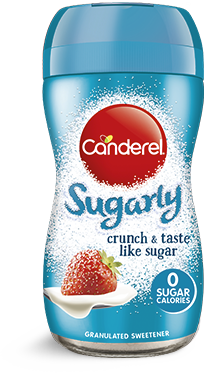 Canderel® Sugarly Nutritionals
Suitable for diabetics as part of a balanced diet and suitable for vegetarians
1/2 Teaspoon = 2g
(Jar contains = 137 servings)
Per Serving
(1/2 teaspoon)
Per 100g
Energy
0kJ
(0 cal)
4kJ
(1 cal)
Fat
0g
0g
of which saturates
0g
0g
Carbohydrate
2g
99g
of which sugars
0g
0g
Protein
0g
0g
Salt
0g
0g