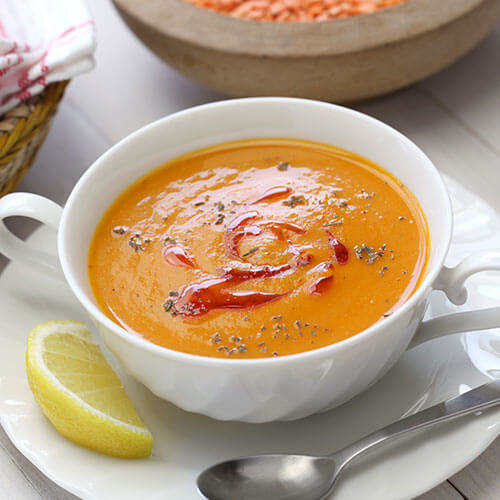 Method
1. Heat the oil in a pan and add onion and cook over a low heat for 3-4 minutes, until soft. Season with sea salt and freshly ground black pepper and stir through the chilli flakes.
2. Stir in the garlic and cook for a few seconds then stir through the lentils so they are all coated, then add the tomato puree and Canderel and stir.
3. Now tip in the canned tomatoes and stock and bring to the boil. Then reduce to a simmer and cook gently for about 25-30 minutes until the lentils are soft. If you need to top up with any more hot water, do so a little at a time.
4. Taste and season again if needed. Blend if you wish, but there is no need. Ladle into bowls and serve with a garnish of fresh parsley.
234 kcal per serving

Ingredients
1 tbsp olive oil
1 Onion (roughly chopped)
2 tsp dried chilli flakes
1 garlic clove (crushed)
175 g split red lentils (rinsed well)
1 tsp tomato puree
1 tbsp Canderel Granules
400 g canned tomatoes (chopped)
1.2 litres vegetable stock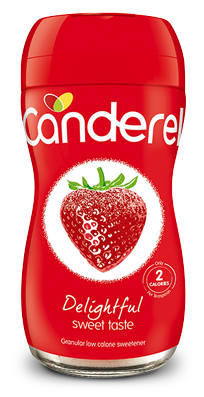 Canderel® Granules
Nutritionals
Suitable for diabetics as part of a balanced diet and suitable for vegetarians
1 Teaspoon = 0.5g (Jar contains 150 teaspoons)
Per teaspoon (0.5g)
Per 100g
Energy
8kJ
(2cal)
1597kJ
(382kcal)
Fat
0g
0g
of which saturates
0g
0g
Carbohydrate
0.5g
94g
of which sugars
0g
7.3g
Protein
0g
1.0g
Salt
0g
0g