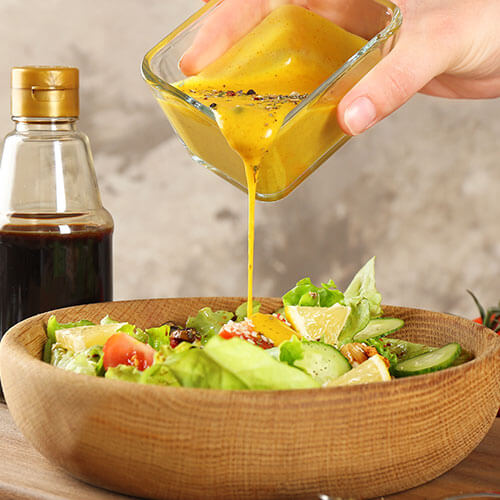 Method
French Dressing (Vinaigrette) – An easy any-occasion dressing
Makes 150ml/1/4 pint, prep 5 mins
1. Add the vinegar to a bowl or jam jar, season well and add the Canderel Sugarly, whisk well or if using jam jar, secure lid and shake.
2. Add the mustard and whisk or shake again then add the oil and mix well. Taste and adjust as needed, adding more seasoning or sweetening a little more with a pinch of Canderel Sugarly. Best leave it to sit a while before serving so flavours can mingle – shake well before using.
Cook's tip: you can half the quantities if only needing a small amount, otherwise it will keep in a jar or bottle in the fridge for 1 week and shake before using
Cook's tip: For a slightly more authentic vinaigrette, mix in some very finely diced shallots
---
Thai Style Dressing  – This will liven up your salads, meat and seafood!
Makes 100ml, prep 10 mins
1. Put all the ingredients in a screw top jar, shake well then taste and adjust as needed. It will keep for 1 week in the fridge. Shake before using.
Cook's tip: The taste needs to be hot, sour and sweet – keep tasting and adding until you get it right
---
Ranch Style Dressing – A low fat creamy dressing that will double up as a dip!
Makes 300ml/1/2 pint, prep 10 mins
1. Add all the ingredients to a food processor and blitz until it is well combined, season well then blitz again and taste and adjust as required then thin consistency if needed with a little more milk (or use water).
Cook's tip: This is great tossed with cooked new potatoes
Ingredients
French Dressing
2 tbsp white wine vinegar
1 tsp Canderel Sugarly
1 tsp Dijon mustard
6 tbsp groundnut oil or rapeseed oil use extra virgin olive oil (this will increase the cals)
Thai Style Dressing
3 tbsp rice wine vinegar
1 tbsp fish sauce
Juice of 1 lime
1 stalk of lemongrass, trimmed, outer leaves removed and finely chopped
1 red chili, de-seeded and finely chopped
5cm piece fresh ginger, grated
3 tsp Canderel Sugarly
Ranch Dressing
1 tbsp rapeseed oil
2 tbsp white wine vinegar
200g carton 0% Greek yoghurt
Handful of fresh chives, finely chopped
Handful of fresh flat leaf parsley finely chopped
Few fresh dill stalks, finely chopped
Splash of Worcestershire sauce
Splash of soya or almond milk (to thin consistency
2 tsp Canderel Sugarly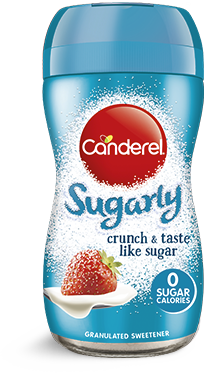 Canderel® Sugarly Nutritionals
Suitable for diabetics as part of a balanced diet and suitable for vegetarians
1/2 Teaspoon = 2g
(Jar contains = 137 servings)
Per Serving
(1/2 teaspoon)
Per 100g
Energy
0kJ
(0 cal)
4kJ
(1 cal)
Fat
0g
0g
of which saturates
0g
0g
Carbohydrate
2g
99g
of which sugars
0g
0g
Protein
0g
0g
Salt
0g
0g