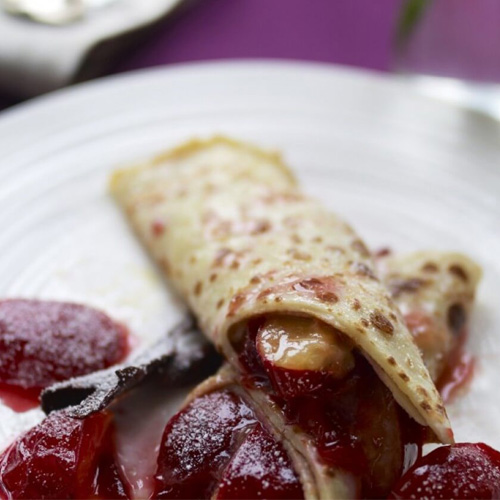 Method
1. First make the pancakes, add the flour to a bowl and mix in the salt. Make a well in the center and add the egg and a little of the milk and stir to incorporate the flour.
2. Continue stirring and bringing in the flour until it mixes into a smooth batter. You may want to switch to a balloon whisk which will assure you get no lumps. Stir in the cinnamon and pour into a jug and put to one side.
3. Heat the oil in a crepe or frying pan and when hot, tip most of it out into a jug (to be used again). Add a ladle of batter mix to the pan and swirl the pan so it coats the bottom. Cook for a few seconds then loosen the edges with a knife then when the underside is cooked and beginning to turn golden, turn over and cook the other side for a couple of minutes until cooked.
4. Remove and sit on an upturned plate, cover with greaseproof paper and repeat until finished, using a little of the oil as you go
5. Now melt the low fat spread in a frying pan and add the Canderel Granules, cinnamon stick and mixed spice. Add the plums and toss to coat and cook for about 3-5 minutes until beginning to turn golden around the edges
6. Spoon the plums into the pancakes, roll, slice in half and serve with a dusting of Canderel Granules.
263 Kcals per serving

Ingredients
3 tbsp Sunflower oil
25 g Low fat spread
4 Plums (stoned and cut into quarters)
2 tsp Canderel Granules
0.5 tsp Mixed spice
1 Cinnamon stick (broken)
For the Pancakes
125 g Plain flour
1 Pinch of salt
1 Egg
300 ml Skimmed milk
1 Pinch of cinnamon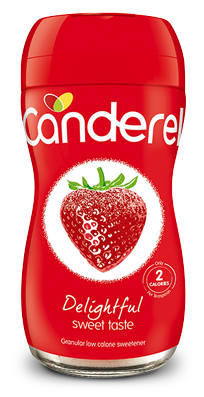 Canderel® Granules
Nutritionals
Suitable for diabetics as part of a balanced diet and suitable for vegetarians
1 Teaspoon = 0.5g (Jar contains 150 teaspoons)
Per teaspoon (0.5g)
Per 100g
Energy
8kJ
(2cal)
1597kJ
(382kcal)
Fat
0g
0g
of which saturates
0g
0g
Carbohydrate
0.5g
94g
of which sugars
0g
7.3g
Protein
0g
1.0g
Salt
0g
0g