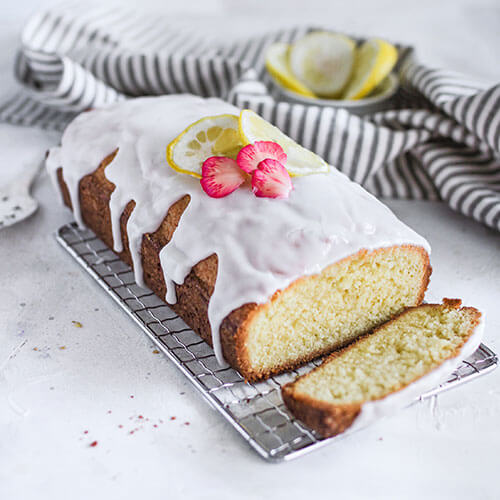 Method
1. Preheat the oven to 170ºC/Gas 3.
2. In the mixer bowl of a food mixer, add the low fat spread and Canderel® Sugarly and beat together until light and fluffy. Add the lemon zest and olive oil and beat again until incorporated.
3. Now add the eggs one at a time, along with a tbsp of flour, then fold in the remaining flour and baking powder followed by the polenta and lemon juice.
4. Spoon the mixture into the tin and level the surface. Bake for about 60-70 minutes, loosely covering with foil towards the end if it is beginning to brown too much. It is ready when a skewer inserted into the middle comes out clean. It will also just about feel firm in the middle.
5. Mix the remaining lemon juice with the Canderel® Sugarly and whilst the cake is still make small holes in the cake with a skewer then pour the mixture over and leave to cool completely before removing from the tin and slicing to serve.
216 calories per serving
Ingredients
200g/7oz low fat spread
100g Canderel® Sugarly
Zest and juice of 2 lemons + 2 lemons for topping
2 tbsp mild olive oil
4 large eggs
150g/5oz self-raising flour, sifted
1 tsp baking powder, sieved
100g/31/2 oz fine polenta
4 tsp Canderel® Sugarly to mix with lemon juice for the topping
You will also need a 900g/2lbs greased and lined loaf tin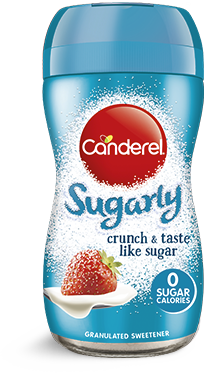 Canderel® Sugarly Nutritionals
Suitable for diabetics as part of a balanced diet and suitable for vegetarians
1/2 Teaspoon = 2g
(Jar contains = 137 servings)
Per Serving
(1/2 teaspoon)
Per 100g
Energy
0kJ
(0 cal)
4kJ
(1 cal)
Fat
0g
0g
of which saturates
0g
0g
Carbohydrate
2g
99g
of which sugars
0g
0g
Protein
0g
0g
Salt
0g
0g