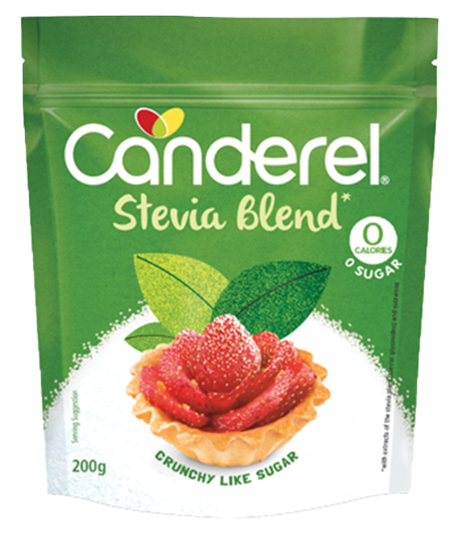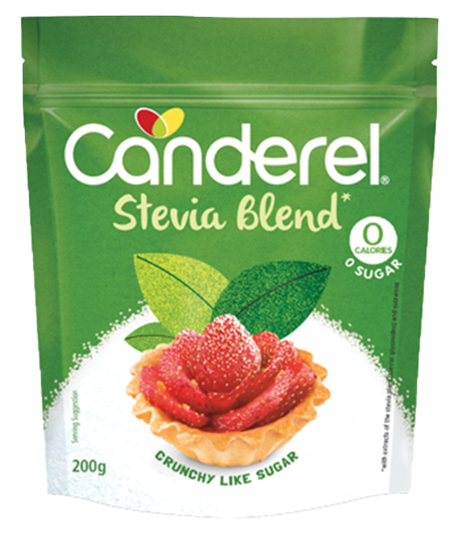 Canderel® Stevia never tasted so good
Canderel® Stevia Blend* crunch is the best of both worlds.
Zero calories & sugar-free
Canderel® Stevia Blend* crunch has zero calories, so you can still enjoy what you love.
Deliciously Sweet
Canderel® Stevia Blend* is ideal for cooking, baking & sprinkling on fruit or cereal.
Availability
*with extracts of the stevia plant (steviol glycosides) and sucralose
Serving Size = 2g
(Pack contains 100 servings)
Per Serving
Per 100g
Energy
0kJ
(0 kcal)
7kJ
(2 kcal)
Fat
0g
0.2g
of which saturates
0g
0.2g
Carbohydrate
2g
99g
of which sugars
0g
0g
Protein
0g
0g
Salt
0g
0g
Ingredients: Bulking agent: erythritol, sweeteners: steviol glycosides (0.2%), sucralose (0.15%), natural flavourings.