Canderel® Sweetely Granules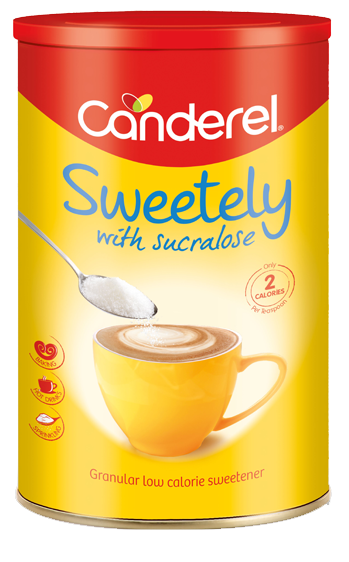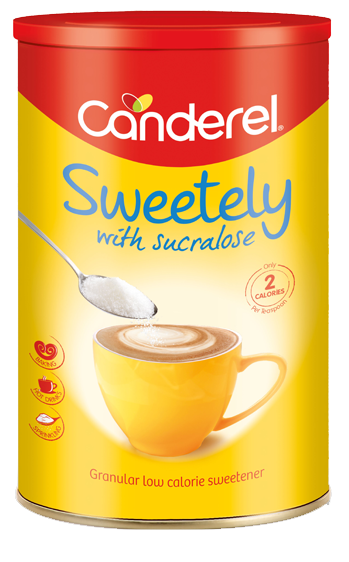 Practical
Canderel® Sweetely Granules is the tasty, versatile sucralose sugar-alternative. It's great for sprinkling on your cereal or fruits and stirring into hot drinks, and the perfect delicious sugar-swap when it comes to baking. Swap spoon for spoon with sugar, or divide your sugar quantity by 8 when weighing – e.g. 80g of sugar = 10g of Sweetely Granules.
Delicious
Canderel® Sweetely gets its delicious sweetness from Sucralose. Swapping your sugar for Canderel® Sweetely can help you save on calories and maintain a healthy balanced diet without compromising on taste.
Versatile
With only two calories per teaspoon, Canderel® Sweetely is the perfect sugar replacement, helping you stick to your diet without having to compromise on delicious sweetness.
Availability
Our 125g canister is available exclusively at Tesco in both the United Kingdom and Republic of Ireland.
Nutritional Information
Suitable for diabetics as part of a balanced diet and suitable for vegetarians
1 Teaspoon = 0.5g
(Jar contains 250 teaspoons)
Per teaspoon (0.5g)
Per 100g
Energy
8kJ
(2 cal)
1592kJ
(381 kcal)
Fat
0g
0g
of which saturates
0g
0g
Carbohydrate
0.5g
0.5g
of which sugars
0g
7.4g
Protein
0g
0g
Salt
0g
0g
Ingredients: Maltodextrin, Sweetener: Sucralose (0.98%)