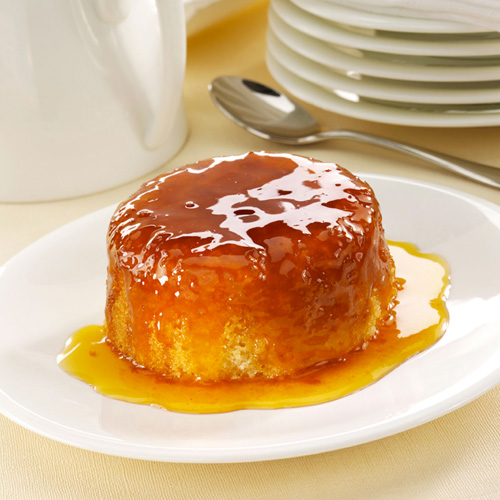 Method
1. Preheat the oven to 180C (350F) Gas 4. Add a knob of low fat spread to a pan along with 1tsp of Canderel® Sweetely.
2. Now add the orange slices and cook for about 10-15 minutes until they begin to caramelise. Spoon them out and sit a couple into the base of 6 mini pudding basins.
3. Add the remaining low fat spread to a mixer bowl and beat until smooth. Add the ginger, Canderel® Sweetely and mixed spice, and beat again. Next, add the eggs one at a time, along with a spoonful of flour as you go. Then fold in the remaining flour until it is all combined.
4. Now spoon the mixture into the pudding basins over the oranges and put in the oven to bake for about 20-30 minutes until golden and sponge is cooked through. Serve warm with your desired accompaniment.
158 calories per serving
Ingredients
125g low fat spread
1 tsp Canderel® Sweetely Granules
1-2 oranges, skin, pith and pips removed and sliced into thick rounds
4 balls of stem ginger, finely chopped,
10g Canderel® Sweetely Granules
1 tsp mixed spice
2 eggs
50g self-raising flour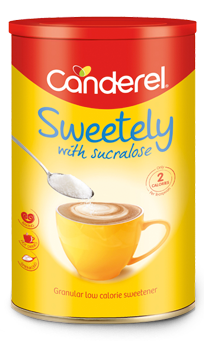 Canderel® Sweetely
Nutritionals
Suitable for diabetics as part of a balanced diet and suitable for vegetarians
1 Teaspoon = 0.5g
(Jar contains 250 teaspoons)
Per teaspoon (0.5g)
Per 100g
Energy
8kJ
(2 cal)
1592kJ
(381 kcal)
Fat
0g
0g
of which saturates
0g
0g
Carbohydrate
0.5g
0.5g
of which sugars
0g
7.4g
Protein
0g
0g
Salt
0g
0g