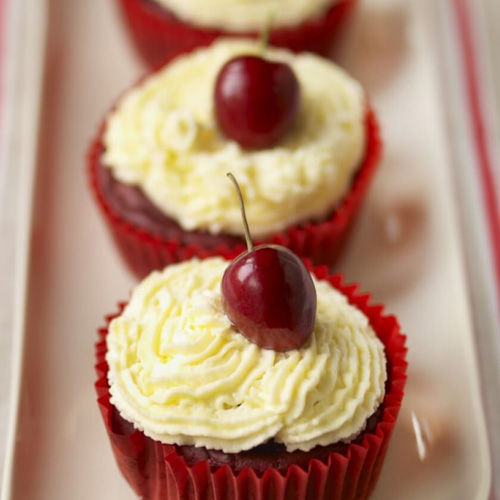 Method
1. Preheat the oven to 180C (350F) Gas 4.
2. Add the low fat spread to the bowl of a food mixer then add the eggs and Canderel Sugarly, now beat for a few minutes until the mixture becomes light and creamy.
3. In another bowl mix together the cocoa powder and red food colouring then add to the creamed mixture and beat again until it all combines.
4. Now turn the mixer speed to low and add the buttermilk, flour and baking powder and beat until it is all combined. It should be a fabulous red colour.
5. Pour in the white wine vinegar and salt and beat on slow for a couple more minutes. The mixture will be fairly runny.
6. Sit the paper cases into a deep 6 hole muffin tin then carefully spoon the mixture into the cases, making sure no mixture spills.
7. Put in the oven and bake in the oven for about 20 minutes or until the cakes are springy when touched. Remove from the oven and let them cool for 10 minutes. Then remove and sit them on a wire rack to cool completely before topping.
8. While they are cooling, beat the low fat spread and Canderel Sugarly together until well combined, then beat in the cream cheese until it is light and fluffy. Spread or pipe over the cupcakes and top with a cherry.
255 Kcals per serving
Ingredients
60 g low fat spread
150 g Canderel® Caster Sugar & Sweetener Blend
2 eggs
1 tbsp dark cocoa powder
2 tsp red food colouring
120 ml buttermilk
150 g self raising flour
1 tsp baking powder
2 tsp white wine vinegar
1 pinch of salt
For the Topping
50 g low fat spread
2 tbsp Canderel® Bake! Icing Sugar Alternative
125 g low fat cream cheese (chilled)
6 large cupcake cases