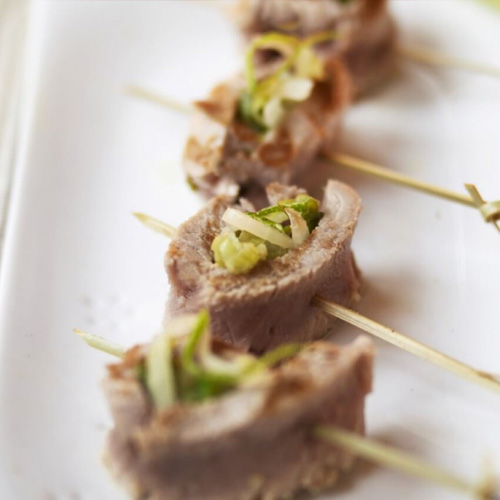 Method
1. Brush the tuna steaks with the oil. Heat a griddle pan until hot then add the tuna steaks and cook very briefly for about 3-5 minutes each side. This will depend on how thick they are but you don't want to overcook them as they should still be pink in the middle.
2. Put the tuna steaks to one side and leave to rest while you prepare the filling. Add the spring onion, onion, ginger, jalapeno chilli and lime juice to a bowl, season with salt and freshly ground black pepper then add a little of the Canderel Sugarly and taste.
3. Keep adding the Canderel Sugarly until you get the required sweetness you want. Mix well then cover and put in the fridge to chill for 20 minutes.
4. Slice the tuna into thin strips, add a little of the onion mixture, then roll and secure with a cocktail stick. Lay out on a platter and serve with lime wedges if you wish.
Tip: If you are buying really fresh good grade tuna from a fishmonger you trust, you can slice and roll the tuna raw. The lime juice will 'cook' it.
37 kcal per serving

Ingredients
1-2 tsp olive oil
2 large fresh tuna steaks
1 bunch spring onions (trimmed and finely sliced)
0.5 small onion (finely diced)
2 tsps minced fresh ginger
1 fresh jalapeno chilli pepper (de-seeded and minced)
Juice of 1 lime or more if needed
1/2-1 tsp Canderel Sugarly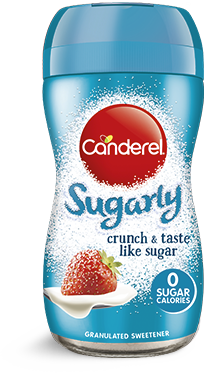 Canderel® Sugarly Nutritionals
Suitable for diabetics as part of a balanced diet and suitable for vegetarians
1/2 Teaspoon = 2g
(Jar contains = 137 servings)
Per Serving
(1/2 teaspoon)
Per 100g
Energy
0kJ
(0 cal)
4kJ
(1 cal)
Fat
0g
0g
of which saturates
0g
0g
Carbohydrate
2g
99g
of which sugars
0g
0g
Protein
0g
0g
Salt
0g
0g