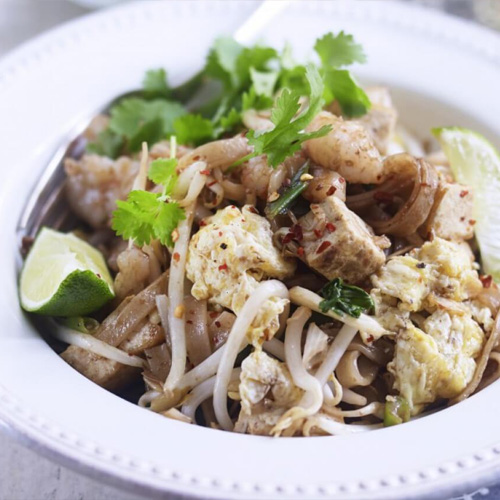 Method
1. Heat half the oil in a wok and add the tofu, toss around the pan, it may break up but that's ok, cook for about 3-4 mins until pale golden, remove from pan and put to one side. Now add a trickle of oil if needed and add the prawns, season and cook for about 3 mins until pink, remove from pan and put to one side.
2. Add a further trickle of oil to the wok then add the garlic and cook for 1 min, careful not to burn then add the egg and cook until lightly scrambled. Remove from wok and put to one side. In a small pan gently heat the fish sauce, tamarind paste and Canderel Sugarly, stir and put to one side.
3. Heat the remaining oil in the wok, drain the noodles well and add these, tossing them around the pan until they soften then add the chilli flakes and pour in the tamarind sauce mix and stock and bring to a bubble, stirring and tossing the noodles as you go. Throw in the spring onions and half the beansprouts, toss around the pan until they wilt then add the egg, tofu and prawns to the pan and stir well to combine. Throw in the remaining beansprouts and stir well. Taste and add a squeeze of lime to your liking and top with coriander leaves to serve. Pile into dishes and dig in!
Cook's tip…You can top with a few chopped roasted peanuts if you wish for authenticity but this will increase the cals!
Ingredients
2-3tbsp rapeseed oil
225g/8oz firm tofu, cut into small cubes
100g/3 1/2oz raw prawns, roughly chopped
3 cloves garlic, peeled and finely sliced
1 x egg, lightly beaten
3tbsp fish sauce
2tbsp tamarind paste (loosen with a little water)
2tbsp Canderel Sugarly
200g/7oz rice noodles (use Thai flat ones if available) soaked in water for 20 mins
Pinch of chilli flakes
Bunch spring onions, trimmed and finely sliced
300ml/1/2 pint hot vegetable stock
370g pack beansprouts
Juice of 1/2 lime
Handful fresh coriander leaves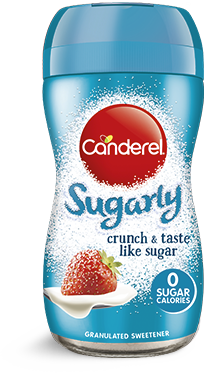 Canderel® Sugarly Nutritionals
Suitable for diabetics as part of a balanced diet and suitable for vegetarians
1/2 Teaspoon = 2g
(Jar contains = 137 servings)
Per Serving
(1/2 teaspoon)
Per 100g
Energy
0kJ
(0 cal)
4kJ
(1 cal)
Fat
0g
0g
of which saturates
0g
0g
Carbohydrate
2g
99g
of which sugars
0g
0g
Protein
0g
0g
Salt
0g
0g