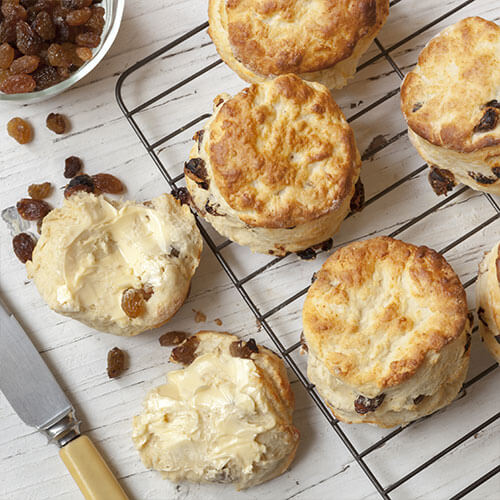 Method
Sultana Scones
1. Preheat the oven to 190ºC/Gas 5.
2. Add the flour, baking powder and canderel to a bowl and stir so it all combines.
3. Rub the low fat spread into the flour, using your fingertips, until it resembles breadcrumbs then stir in the sultanas then add the buttermilk and stir to combine using a round ended knife then bring it together with your hands. If it is too dry and crumbly, add a sprinkling of milk.
4. Turn it out onto a lightly floured board and roll it out to about 1.2 cm½ inch thick then cut out rounds using a 6cm/21/2 inch cutter and place on a lightly oiled baking sheet. Brush each one with a little milk and put in the oven to bake for about 10-15 minutes until golden and risen. Leave to cool on a wire rack then sandwich together with low fat crème fraiche or low fat cream and low sugar strawberry jam.
Tip: The key to scone making is not to handle the dough too much – treat it as you would pastry.
Strawberry Conserve
1. Add the strawberries to a preserving pan or a large wide pan then sprinkle over the Canderel®, on a low heat, stir for a couple of minutes until the Canderel® has dissolved.
2. Stir in the lemon juice raise the heat and bubble for about 10-15 minutes until the strawberries have broken down and the mixture has thickened. Spoon into a sterilised jar, then seal.
Tip: Keep in the fridge for up to 3 weeks
216 calories per serving
Ingredients
Sultana Scones
350g/12oz self- raising flour, sifted
2 tsp baking powder
10g Canderel® Sweetely
100g/31/2 oz low fat spread
75g/3oz sultanas
100ml/31/2 floz buttermilk or use skimmed milk + extra for glazing
Strawberry Conserve
900g strawberries, hulled and large ones halved
40g Canderel® Sweetely
Juice of 1 lemon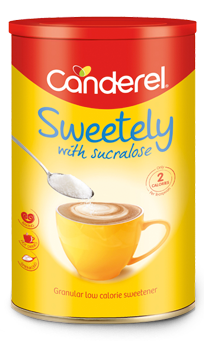 Canderel® Sweetely
Nutritionals
Suitable for diabetics as part of a balanced diet and suitable for vegetarians
1 Teaspoon = 0.5g
(Jar contains 250 teaspoons)
Per teaspoon (0.5g)
Per 100g
Energy
8kJ
(2 cal)
1592kJ
(381 kcal)
Fat
0g
0g
of which saturates
0g
0g
Carbohydrate
0.5g
0.5g
of which sugars
0g
7.4g
Protein
0g
0g
Salt
0g
0g