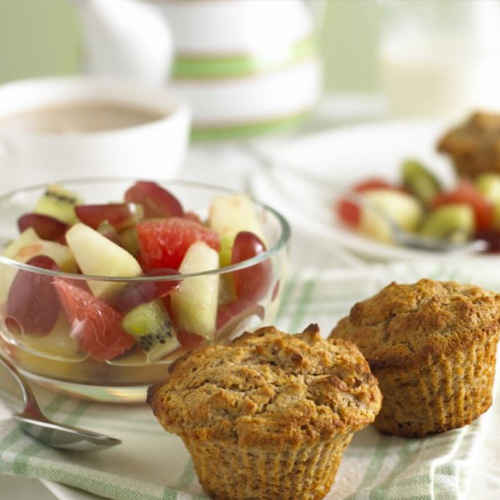 Method
1. Heat the oven to 200C/gas 6.
2. Sieve the flour and baking powder into a medium bowl, reserve ¼ of the bran in the sieve adding the rest into the bowl with the Canderel and grated lemon zest.
3. Beat the egg with the milk, oil and vanilla extract then add to the dry ingredients and quickly mix in. Do not over mix.
4. Place 12 paper cases in a deep bun tray and spoon in the mixture. Sprinkle the tops with the reserved bran. Bake for 15-18 minutes until golden and firm to the touch.
5. While the muffins are baking, make the fruit compote. Remove the seeds from the melon, cut away from the skin then dice the flesh into chunks, put into a bowl. Cut all the skin and pith off the grapefruit and then cut down the membrane to release the segments, halve then add to melon with the grapes. Cut the ends off the kiwi fruit, then cut away the skin, slice or cut into chunks. Add the orange juice and Canderel and toss together.
6. Serve the warm muffins with the fruit compote.
Tip : add 2 chopped pieces of stem ginger to the fruit if liked.
175 Kcals per serving

Ingredients
For the Muffins
250 g self raising wholemeal flour
2 tsp baking powder
10 tbsp Canderel Granules
Grated zest of one lemon
1 large egg
300 ml semi-skimmed milk
4 tbsp sunflower oil
1 tsp vanilla extract
1 apple, grated (leave the skin on)
For the Summer Fruit Compote
1/2 small melon
1 red or pink grapefruit
Small bunch of red or green grapes, halved (approx 150g)
2 kiwi fruit
3 tbsp orange juice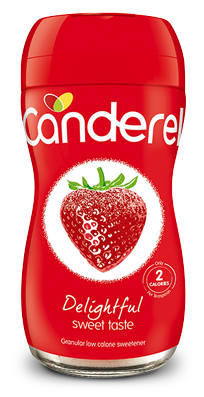 Canderel® Granules
Nutritionals
Suitable for diabetics as part of a balanced diet and suitable for vegetarians
1 Teaspoon = 0.5g (Jar contains 150 teaspoons)
Per teaspoon (0.5g)
Per 100g
Energy
8kJ
(2cal)
1597kJ
(382kcal)
Fat
0g
0g
of which saturates
0g
0g
Carbohydrate
0.5g
94g
of which sugars
0g
7.3g
Protein
0g
1.0g
Salt
0g
0g